Sure, smartphones and tablets get all the press, and deservedly so. But if you place the original mainstream eInk device from 2007, the Amazon Kindle, side by side with today's model, the evolution of eInk devices is just as striking.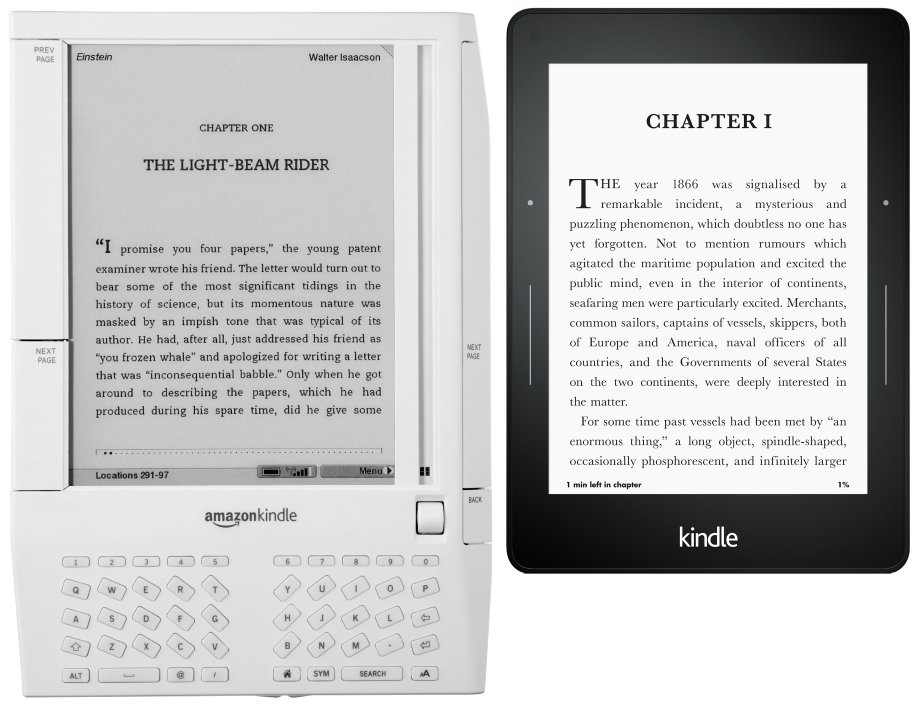 Each of these devices has a 6 inch eInk screen. Beyond that they're worlds apart.
8" × 5.3" × 0.8"
10.2 oz
6.4" × 4.5" × 0.3"
6.3 oz
6" eInk display
167 PPI
4 level greyscale
6" eInk display
300 PPI
16 level greyscale
backlight
256 MB
4 GB
400 Mhz CPU
1 GHz CPU
$399
$199
7 days battery life
USB
6 weeks battery life
WiFi / Cellular
They may seem awfully primitive compared to smartphones, but that's part of their charm – they are the scooter to the motorcycle of the smartphone. Nowhere near as versatile, but as a form of basic transportation, radically simpler, radically cheaper, and more durable. There's an object lesson here in stripping things away to get to the core.
eInk devices are also pleasant in a paradoxical way because they basically suck at everything that isn't reading. That doesn't sound like something you'd want, except when you notice you spend every fifth page switching back to Twitter or Facebook or Tinder or Snapchat or whatever. eInk devices let you tune out the world and truly immerse yourself in reading.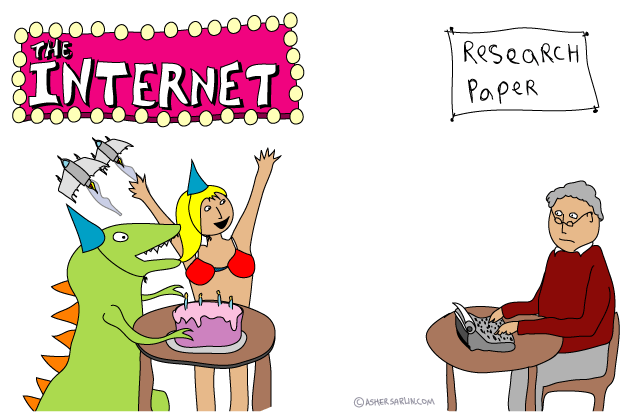 I believe in the broadest sense, bits > atoms. Sure, we'll always read on whatever device we happen to hold in our hands that can display words and paragraphs. And the advent of retina class devices sure made reading a heck of a lot more pleasant on tablets and smartphones.
But this idea of ultra-cheap, pervasive eInk reading devices eventually replacing those ultra-cheap, pervasive paperbacks I used to devour as a kid has great appeal to me. I can't let it go. Reading is Fundamental, man!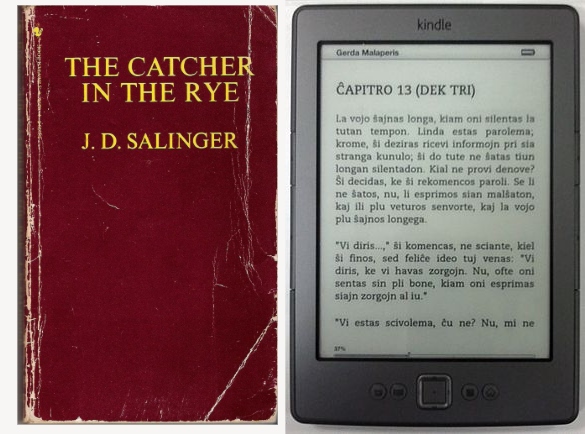 That's why I'm in this weird place where I will buy, sight unseen, every new Kindle eInk device. I wasn't quite crazy enough to buy the original Kindle (I mean, look at that thing) but I've owned every model since the third generation Kindle was introduced in 2010.
I've also been tracking the Kindle prices to see when they can get them down to $49 or lower. We're not quite there yet – the basic Kindle eInk reader, which by the way is still pretty darn amazing compared to that original 2007 model pictured above – is currently on sale for $59.
But this is mostly about their new flagship eInk device, the Kindle Voyage. Instead of being cheap, it's trying to be upscale. The absolute first thing you need to know is this is the first 300 PPI (aka "retina") eInk reader from Amazon. If you're familiar with the smartphone world before and after the iPhone 4, then you should already be lining up to own one of these.
When you experience 300 PPI in eInk, you really feel like you're looking at a high quality printed page rather than an array of RGB pixels. Yeah, it's still grayscale, but it is glorious. Here are some uncompressed screenshots I made from mine at native resolution.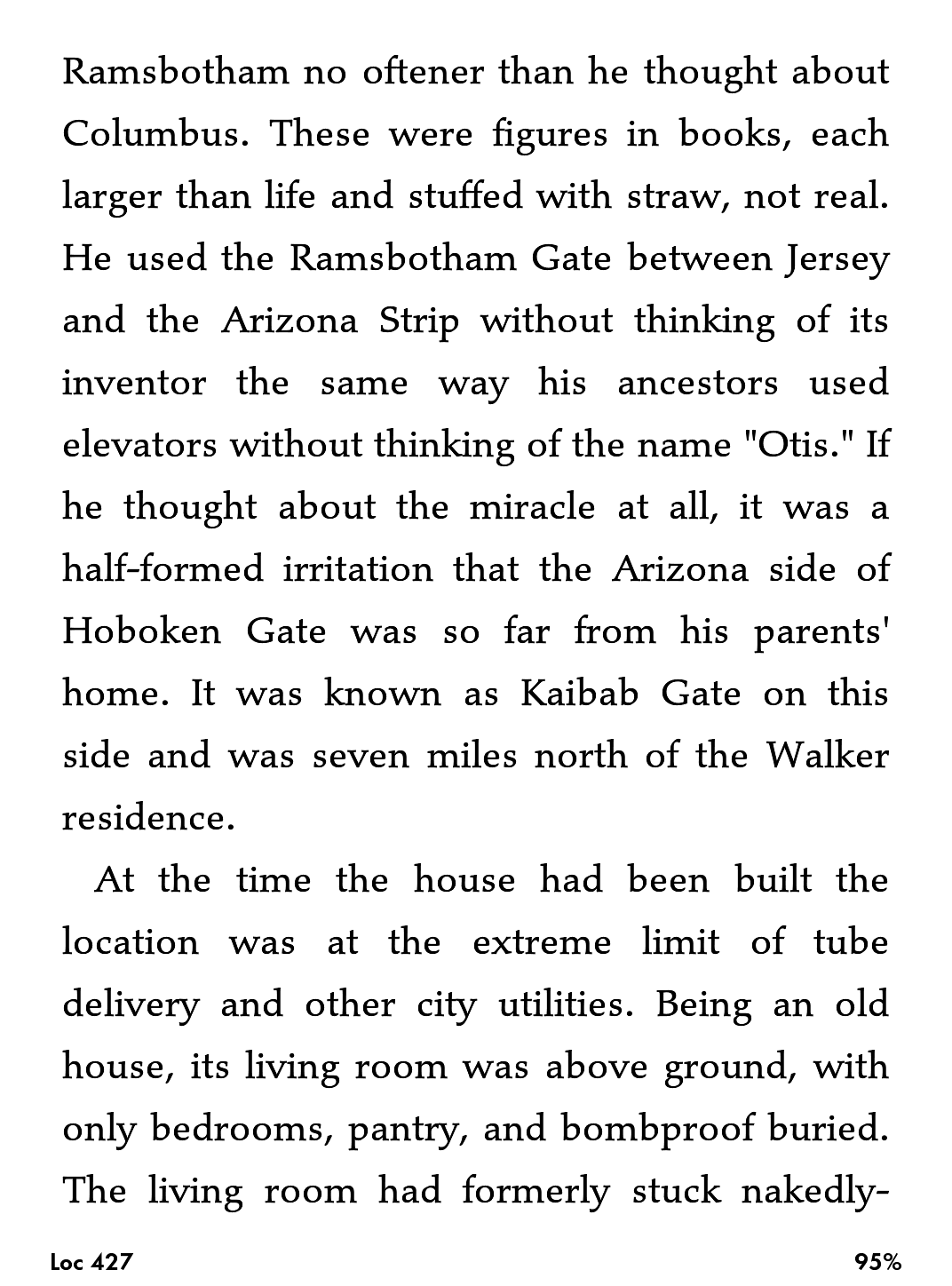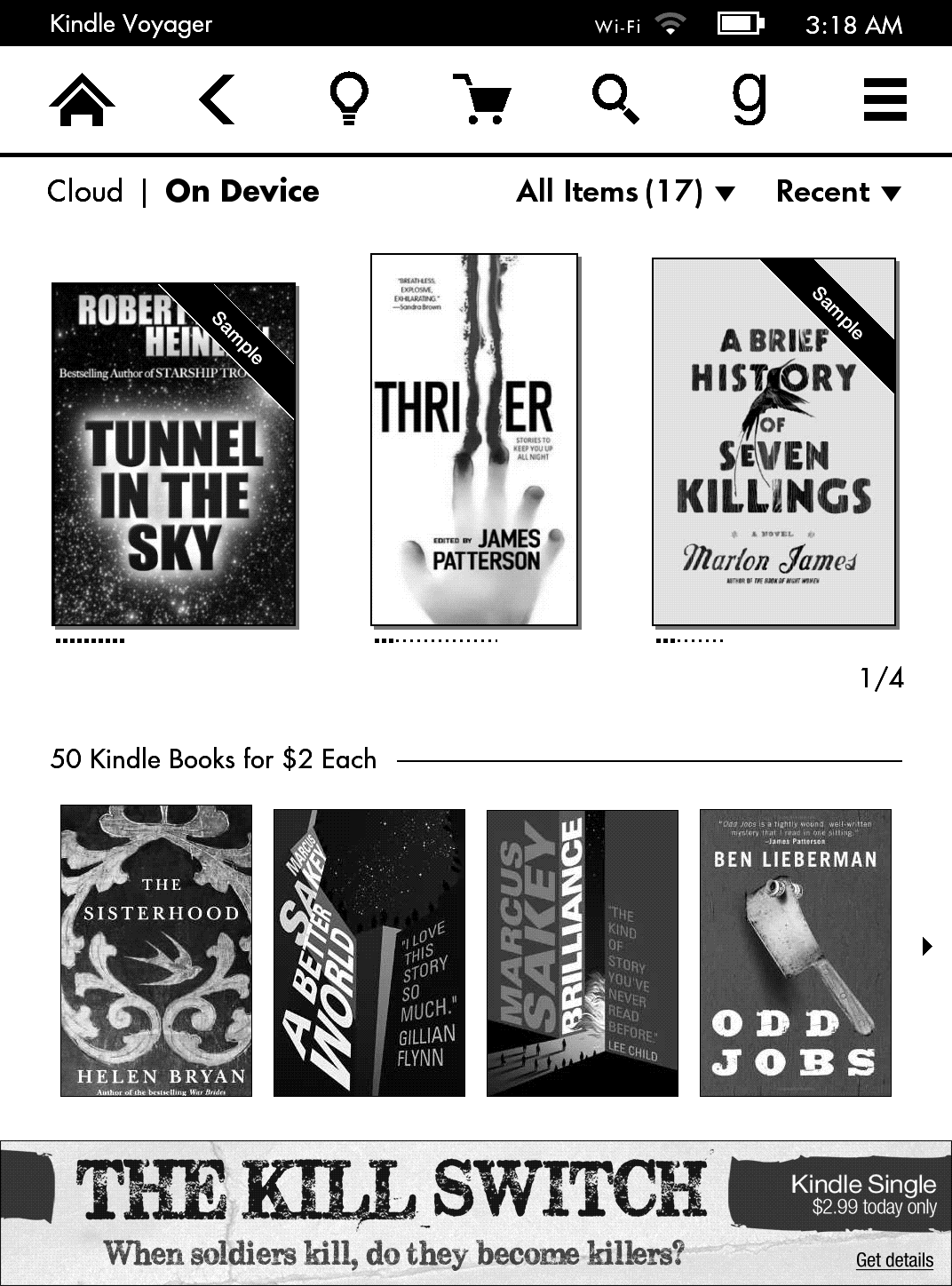 Note that the real device is eInk, so there's a natural paper-like fuzziness that makes it seem even more high resolution than these raw bitmaps would indicate.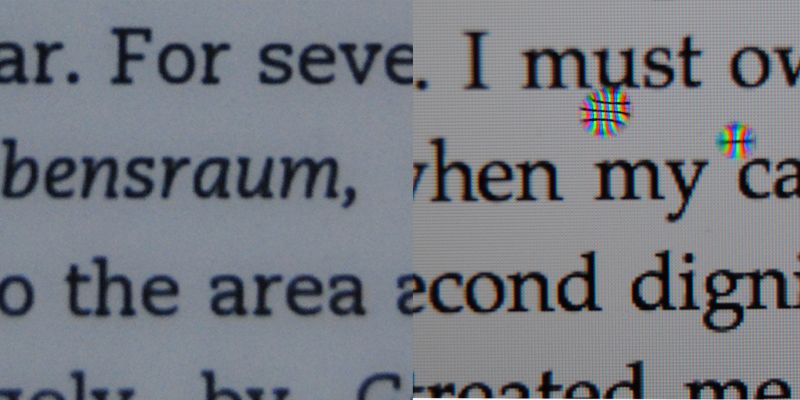 I finally have enough resolution to pick a thinner font than fat, sassy old Caecilia.
The backlight was new to the original Paperwhite, and it definitely had some teething pains. The third time's the charm; they've nailed the backlight aspect for improved overall contrast and night reading. The Voyage also adds an ambient light sensor so it automatically scales the backlight to anything from bright outdoors to a pitch-dark bedroom. It's like automatic night time headlights on a car – one less manual setting I have to deal with before I sit down and get to my reading. It's nice.
The Voyage also adds page turn buttons back into the mix, via pressure sensing zones on the left and right bezel. I'll admit I had some difficulty adjusting to these buttons, to the point that I wasn't sure I would, but I eventually did – and now I'm a convert. Not having to move your finger into the visible text on the page to advance, and being able to advance without moving your finger at all, just pushing it down slightly (which provides a little haptic buzz as a reward), does make for a more pleasant and efficient reading experience. But it is kind of subtle and it took me a fair number of page turns to get it down.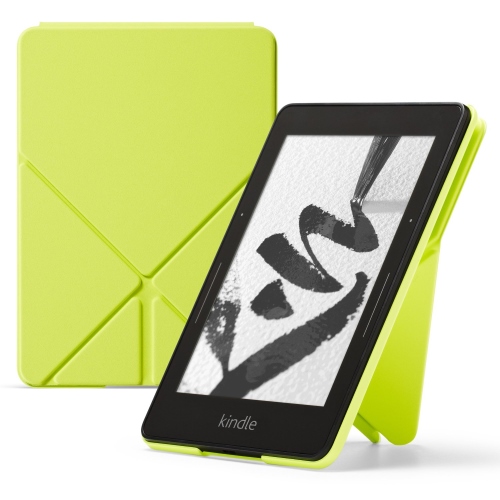 In my experience eInk devices are a bit more fragile than tablets and smartphones. So you'll want a case for automatic on/off and basic "throw it in my bag however" paperback book level protection. Unfortunately, the official Kindle Voyage case is a disaster. Don't buy it.
Previous Kindle cases were expensive, but they were actually very well designed. The Voyage case is expensive and just plain bad. Whoever came up with the idea of a weirdly foldable, floppy origami top opening case on a thing you expect to work like a typical side-opening book should be fired. I recommend something like this basic $14.99 case which works fine to trigger on/off and opens in the expected way.
It's not all sweetness and light, though. The typography issues that have plagued the Kindle are still present in full force. It doesn't personally bother me that much, but it is reasonable to expect more by now from a big company that ostensibly cares about reading. And has a giant budget with lots of smart people on its payroll.
This is what text looks like on a kindle.

— Justin Van Slembrou… (@jvanslem) February 6, 2014
If you've dabbled in the world of eInk, or you were just waiting for a best of breed device to jump in, the Kindle Voyage is easy to recommend. It's probably peak mainstream eInk. Would recommend, would buy again, will probably buy all future eInk models because I have an addiction. A reading addiction. Reading is fundamental. Oh, hey, $2.99 Kindle editions of The Rise and Fall of the Third Reich? Yes, please.
(At the risk of coming across as a total Amazon shill, I'll also mention that the new Amazon Family Sharing program is amazing and lets me and my wife finally share books made of bits in a sane way, the way we used to share regular books: by throwing them at each other in anger.)
[advertisement] What's your next career move? Stack Overflow Careers has the best job listings from great companies, whether you're looking for opportunities at a startup or Fortune 500. You can search our job listings or create a profile and let employers find you.