Over the last three years, this site has become far more popular than I ever could have imagined. Not that I'm complaining, mind you. Finding an audience and opening a dialog with that audience is the whole point of writing a blog in the first place.
But on the internet, popularity is a tax. Specifically, a bandwidth tax. When Why Can't Programmers.. Program? went viral last week, outgoing bandwidth usage spiked to nearly 9 gigabytes in a single day: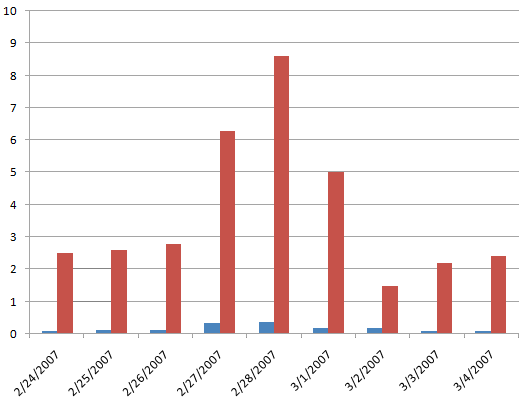 That was enough to completely saturate two T1 lines-- nearly 300 KB/sec-- for most of the day. And that includes the time we disabled access to the site entirely in order to keep it from taking out the whole network.* After that, it was clear that something had to be done. What can we do to reduce a website's bandwidth usage?
1. Switch to an external image provider.
2. Turn on HTTP compression.
3. Outsource Your RSS feeds.
4. Optimize the size of your JavaScript and CSS
After implementing all these changes, I'm very happy with the results. I see a considerable improvement in bandwidth usage, and my page load times have never been snappier. But, these suggestions aren't a panacea. Even the most minimal, hyper-optimized compressed text content can saturate a 300 KB/sec link if the hits per second are coming fast enough. Still, I'm hoping these changes will let my site weather the next Digg storm with a little more dignity than it did the last one-- and avoid taking out the network in the process.
* the ironic thing about this is that the viral post in question was completely HTTP compressed text content anyway. So of all the suggestions above, only the RSS outsourcing would have helped.