I've been traveling a bit more lately, which reminded me to update my list of recommended laptop travel accessories.
Although I was happy with the Microsoft Notebook Optical Mouse, the snap-in power off switch never worked very well for me. As a result, it got switched on a few times in my laptop bag, leaving me with a dead mouse when I needed it. So I needed a new notebook mouse. I switched to the Logitech V500: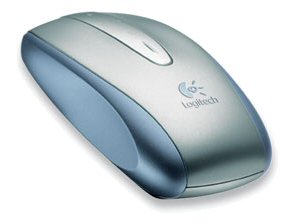 It's got a neat pop-up panel on the bottom which serves three functions:
it's a power switch
it provides a larger, angled profile for comfort
it serves as a secure storage compartment for the wireless USB receiver
The solid-state scrolling surface (instead of a wheel) takes a little getting used to, but it works well, and there's a satisfying audible click that plays as you "scroll." It takes up less space than any of the Microsoft notebook mice, too.
If you've ever been trapped at a crowded airport with all the power outlets occupied by opportunistic travellers, you'll wish you had brought a mini power strip with you. The Monster Cable Outlets to Go mini power strip looks like it will fit the bill nicely:

Too bad it's not available yet. If you can't wait, most hardware stores carry the good old three-port power outlet expander: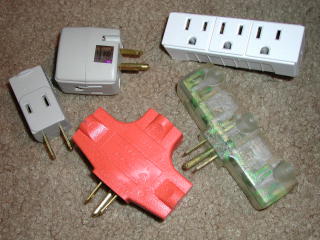 I also occasionally need to network multiple PCs on the road. Given the prices of today's routers, there's absolutely no reason to carry something that's merely a switch or hub. Consider the Linksys WRT54GC compact wireless router, which I picked up on eBay for under $40 shipped: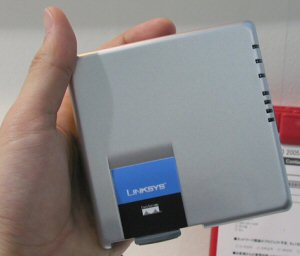 The newer Wireless-G Travel Router is even smaller, and it plugs directly into the wall, obviating the need for any external power brick.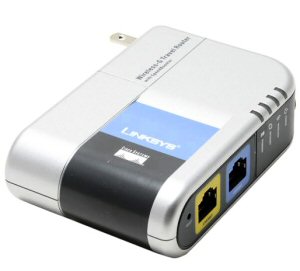 However, it only has one client ethernet port, so it's not suitable as a wired switch. That's kind of a bummer.
I still recommend (and use) my external USB wireless antenna, and a retractable cable kit. Oh yeah, and the portable laptop stand can be a lifesaver, too.
What are your essential laptop travel kit items?