Here at VSLive! 2006 San Francisco, I've been sitting through a lot of presentations. Unfortunately, I've spent a disproportionate amount of that time staring at tiny, unreadable 12 and 10 point IDE text.
Presenters, please don't do this to your audiences. If you can't pre-scale the font appropriately in the application, make use of one of the many automatic magnification utilities out there.
Heck, you can even use Windows XP's built in magnifier utility: Start, Run, Magnify.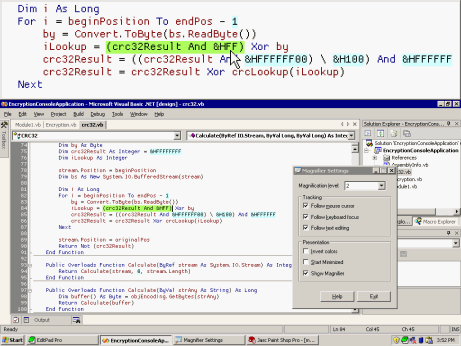 The options for magnify.exe are limited but entirely servicable:
It can automatically follow:

the mouse cursor
the keyboard focus
text editing
Click and drag the magnification surface to move it. It can float as a window or it can dock to any side of the screen like the taskbar.
Drag the corners to resize the surface.
The magnification is adjustable from 1x to 9x.
In the screenshot above, I have the magnification window docked to the top of the screen. The IDE is maximized normally under it. Since magnify follows all my mouse and keyboard actions automatically, everything I do is now perfectly visible -- even from the last row of the room.